TESL Ontario's 46th Annual Conference
November 1-2, 2018
Sheraton Centre Toronto
Synergies of Language & Life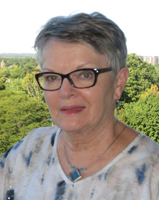 We are pleased to confirm some of the details of this year's conference; mark your calendars now for November 1st and 2nd at the Sheraton Centre Toronto! Many of you are familiar with this venue and will no doubt look forward to returning.
The conference theme is "Synergies of Language and Life" and will be reflected further in the panel discussion theme, "Building Thriving Communities".  We hope this will inspire you to think about presenting at the conference. Watch for the call for presentations coming soon!
The launch of the Career Connections Event last year was a success and will be a part of this year's program as well. We are also considering a few new features this year, so stay tuned for further information as we finalize things.
Barb Krukowski
Conference Chair