TESL Ontario's 46th Annual Conference
November 1-2, 2018
Sheraton Centre Toronto
Synergies of Language & Life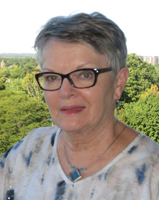 Your conference committee continues to focus its work on offering you program content to meet your professional development interests for the upcoming conference. If you haven't already done so, mark your calendars for our 46th annual conference, 'Synergies of Language and Life' on November 1st and 2nd at Sheraton Centre in downtown Toronto.
Our keynote speakers have been confirmed! Asmaa Cober, who holds a Masters in Social Work, will share her personal and professional experience as someone who fled the war in Iraq and who now has a practice in Kitchener-Waterloo. Deborah Healey, a professor from the University of Oregon, has a Ph. D. in Computers in Education, and MA Linguistics will be presenting on 'Gamification' and will be speaking to us remotely from Oregon.
Friday's panel presentation will again see representatives from our provincial ministries reflect on 'Building Thriving Communities'.
Building on the success of last year's Career Connections Event, the Career Connections Event planning team has confirmed presenters for 3 topics: 'Monetizing Your Professional Skills', 'From Ideation to Paycheque' and 'Coaching for Success'. Twelve employers have registered to date with more expected.
New this year will be our first ever TechKnow session where technology experts will provide advice and guidance on specific technology topics. In addtion this year, the conference will feature a number of remote presentations including some PBLA related topics from Western Canada. Stay tuned for more details.
There are other components in the works, so be sure to check back for more information.
And finally, it's not too late to submit your proposals for presentations and posters. We know you have great ideas, so don't be shy about sharing them!
Barb Krukowski
Conference Chair