Please print and bring it with you to the conference.
---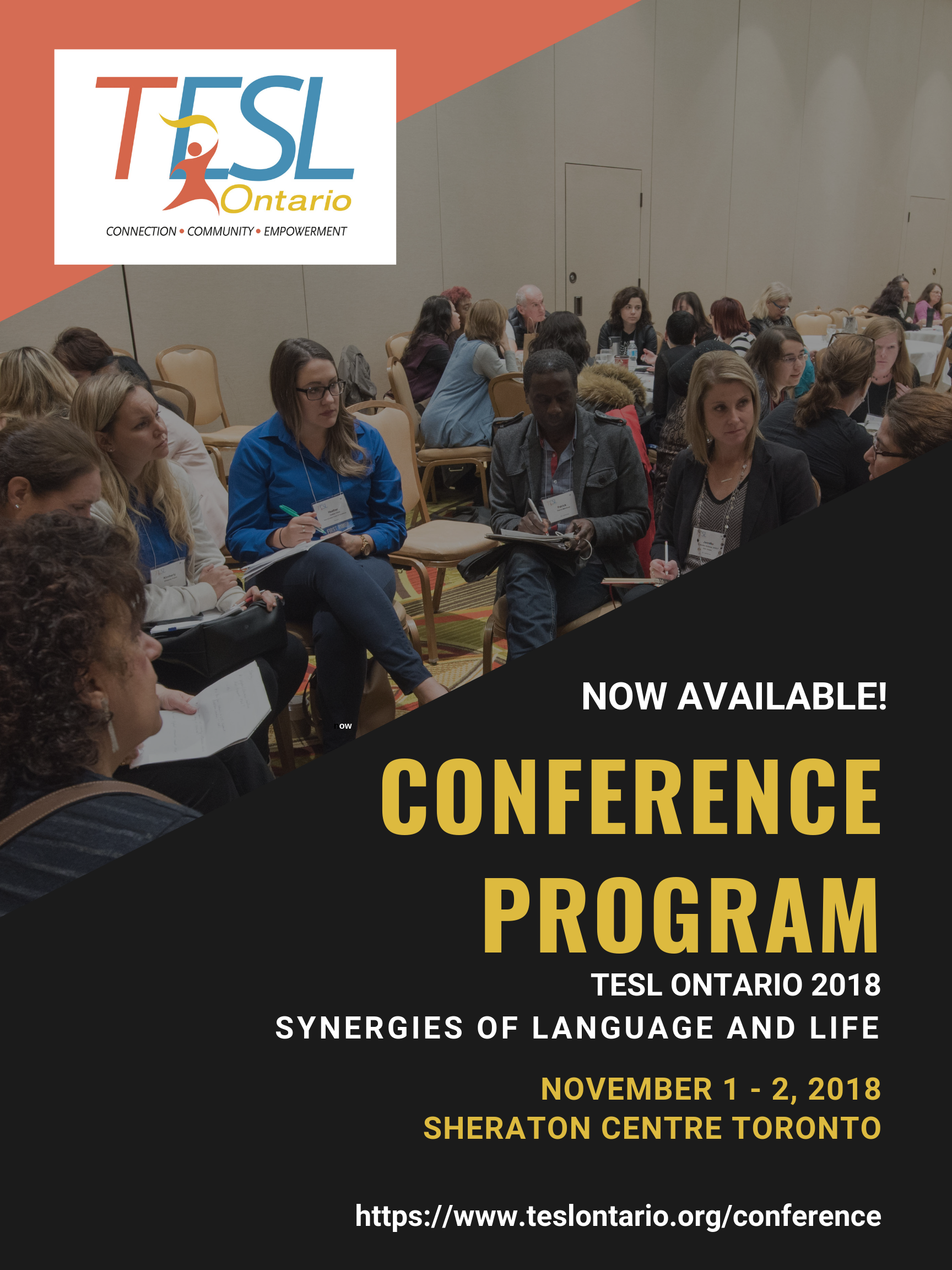 ---
Registration for the TESL Ontario Remote Sessions is now closed.
---
Conference Registration Fees
 Registration Type


  HST is not included

One Day

Two Day

 TESL Ontario Member

$190

$290

 Student Member

$160

$235

 Non-member

$320

$400
Registration open: September 25 through October 23
Conference Brochure available online: September 12
---
---
Gamification in Education: Hype or Useful Teacher Tool?
Learning and Resilience
Dr. Deborah Healey
University of Oregon/TESOL International Association
Asmaa Cober
Sanctuary Refugee Health Centre
---
Career Booster Forum Presenters:
Monetizing your Professional Skills

 

Connecting Accreditation to Employment

Coaching for Success

 

Patrice Palmer
Owner of Teacher to Teacherpreneur and Happiness @ Work
 
Reza Mazloom-Farzaghy, OCELT, MA TESL
Accreditation Services Manager, TESL Ontario
Thura Aljubury
Sheridan College & ACCES Employment
 
Calling All Employers!

Are you a hiring manager looking to connect with more than 800 ESL professionals across Ontario? Register for your free employer exhibit table.
---
13th Annual TESL Ontario Panel Discussion
Panel presenters:
Yves Saint-Germain, Director, Language Policy, Francophone Communities and Performance Measurements, Immigration, Refugees and Citizenship Canada
Yvonne Ferrer, Director, Program Management and Evaluation, Ministry of Children, Community and Social Services, Citizenship and Immigration Division
Monica Neitzert, Director, Lifelong Learning and Essential Skills Branch, Workforce Policy and Innovation Division, Ministry of Advanced Education and Skills Development
---
The TechKnow session will have approximately 15 tables with one presenter at each table focusing on a specific use of technology. Presenters will speak for 6 minutes on their chosen topic. Following the short presentation there will be 6 minutes to answer any questions. Attendees then change tables to listen to another presenter/topic. Presenters will present their information four times and attendees can move to 4 different tables within the one-hour time slot.
Table Topics will include:
Blended Synchronous Language Teaching
Blockchain's Uses for Education
Collaborative Activities with Nearpod
Curate and Collaborate with Padlet
Find Tutela Resouces
Google Classroom in Adult ESL
Gotta Get Goosechasin'
Keeping Webinar Participants Engaged
LINC and Google Classroom
Making Google Translate Work
QR codes for workshops
QUIZLET- the magic of vocabulary teaching
Remind.com: Communication Tool
Teaching through Virtual Reality
TED Talks ESL App
Using H5P effectively
---
QALEN Panel Discussion: Global Perspectives on Quality Assurance and Teacher Qualifications 
In cooperation with Languages Canada, we are pleased to host a panel discussion titled "Global Perspectives on Quality Assurance and Teacher Qualifications" from members of Quality Assurance in Language Education Network (QALEN) featuring participants from Languages Canada, Orion Assessment Services, British Council, NEAS, and English New Zealand.
Qalen is a Network of accrediting and Quality Assurance bodies in the English language education sector, with representation in the US, Canada, the UK, Australia New Zealand, Malta, and South Africa. The network holds an annual symposium to discuss issues related to Quality Assurance and Accreditation.
One of the most complex issues that comes up at every QALEN symposium is Teacher Qualifications.  Establishing minimal teacher qualification standards for the accreditation of language programs is a difficult task given the variation in qualifications that exist throughout the world.  One of the long-term projects that the QALEN network has been working on is a mapping document between countries comparing different levels of qualification required to teach in accredited programs across the QALEN network. 
Using this mapping document as a starting point, this panel discussion will focus on teacher qualifications, and trends related to English language teacher qualifications globally. More specifically, it will focus on the differences and similarities that we find across the different accreditation schemes, examine some of the challenges that QALEN members face in establishing standards around teacher qualifications, and discuss current and future trends related to teacher qualifications.
Facilitator: Julian Inglis, Quality Assurance Committee Co-Chair, Languages Canada:
Wayne Dyer, Chair, English New Zealand: wayne@icl.ac.nz
Ana Bratkovic, General Manager, NEAS(Australia): a.bratkovic@neas.org.au
Liz McLaren, Manager Accreditation UK ,  British Council: Elizabeth.McLaren@britishcouncil.org
Ali Noori, Co Chair Quality Assurance Committee, Languages Canada  Ali.Noori@ilsc.com ; 
David Huebel Orion Assessment Services:  dhuebel@orioncan.com
Reza Mazloom-Farzaghy, TESL ON:, Accreditation Services Manager
---
Program Administrators' Meeting:
The Joint Program Administrators' Meeting will be held on Friday, November 2, 2018 from 12:30 pm - 3:00 pm. Further details will be emailed to program administrators from your respective funders.
---
TESL Ontario Annual General Meeting
TESL Ontario is your association and we are hard at work on your behalf.
Join us at the Annual General Meeting for association updates and to ask your questions. The TESL Ontario Annual General Meeting will be held on Thursday, November 1, 2018 from 9:50 am - 10:50 am at the Sheraton Centre Toronto Hotel located at 123 Queen Street West, Toronto, ON in the Dominion Ballroom North.
There will be draws for four gift baskets for AGM attendees. Each gift basket includes a free annual membership or a free two-day conference pass for the 2019 Annual Conference and sweet treats.
---