2019 Career Connections
The Career Connection planning team is hard at work planning the 2019 Career Connections event. Details will be posted here as soon as they are available.
2018 Career Connections Information
TESL Ontario will be hosting its 2nd annual Career Connections event at the annual conference on Thursday, November 1, 2018.
The half-day event will have a one-hour forum discussion, followed by employer exhibit displays.
Career Booster Forum
Build your career…build your income
Thursday, November 1, 2018 @ 12:40 pm - 1:40 pm
The Career Booster Forum is open to conference attendees only.
Monetizing your Professional Skills
Patrice Palmer
Owner of Teacher to Teacherpreneur and Happiness @ Work
Are you looking for ways to combine your skills, creativity and expertise to earn additional income outside the classroom? There are many opportunities online such as teaching, writing, editing and research positions but knowing where to look is key. I will provide some ideas and tips to help you get started.
Connecting Accreditation to Employment
Reza Mazloom-Farzaghy, OCELT, MA TESL
Accreditation Services Manager, TESL Ontario
Who are the providers of language instruction in Ontario? What certification/accreditation do they require? How can you find them? How should you approach them? This presentation will try to answer these questions and more.
Coaching for Success
Thura Aljubury
Sheridan College & ACCES Employment
Why only teach when you can work with your TESL and earn more? With the arrival of the Syrian refugees in 2015, the need for coaches, facilitators and translators has increased. Join me to know more about working as a coach, facilitator, and interpreter/ translator with your TESL for non-for-profit organizations.
Employer Exhibits
Thursday, November 1, 2018 @ 1:40 pm - 4:30 pm
The employer exhibits are open to all TESL Ontario members and students.
Conference registration is not required.
 
The following employers are confirmed for the 2018 Career Connections event:
ACCES Employment
Canada Education & Consulting
Catholic Crosscultural Centre
Centre for Education & Training
Conestoga IELTS
English School of Canada
English Testing Canada (ETC)
Hansa Language Centre
International Centre for EAP
Learn YOUR English Network
Outstanding Education Group
RelevantChina
Ryerson
Seneca College
St. George's Centre for ESL, Upper Grand District School Board
Toronto Catholic District School Board, Adult Education Program
Toronto District School Board
UASK Education
York Region District School Board
---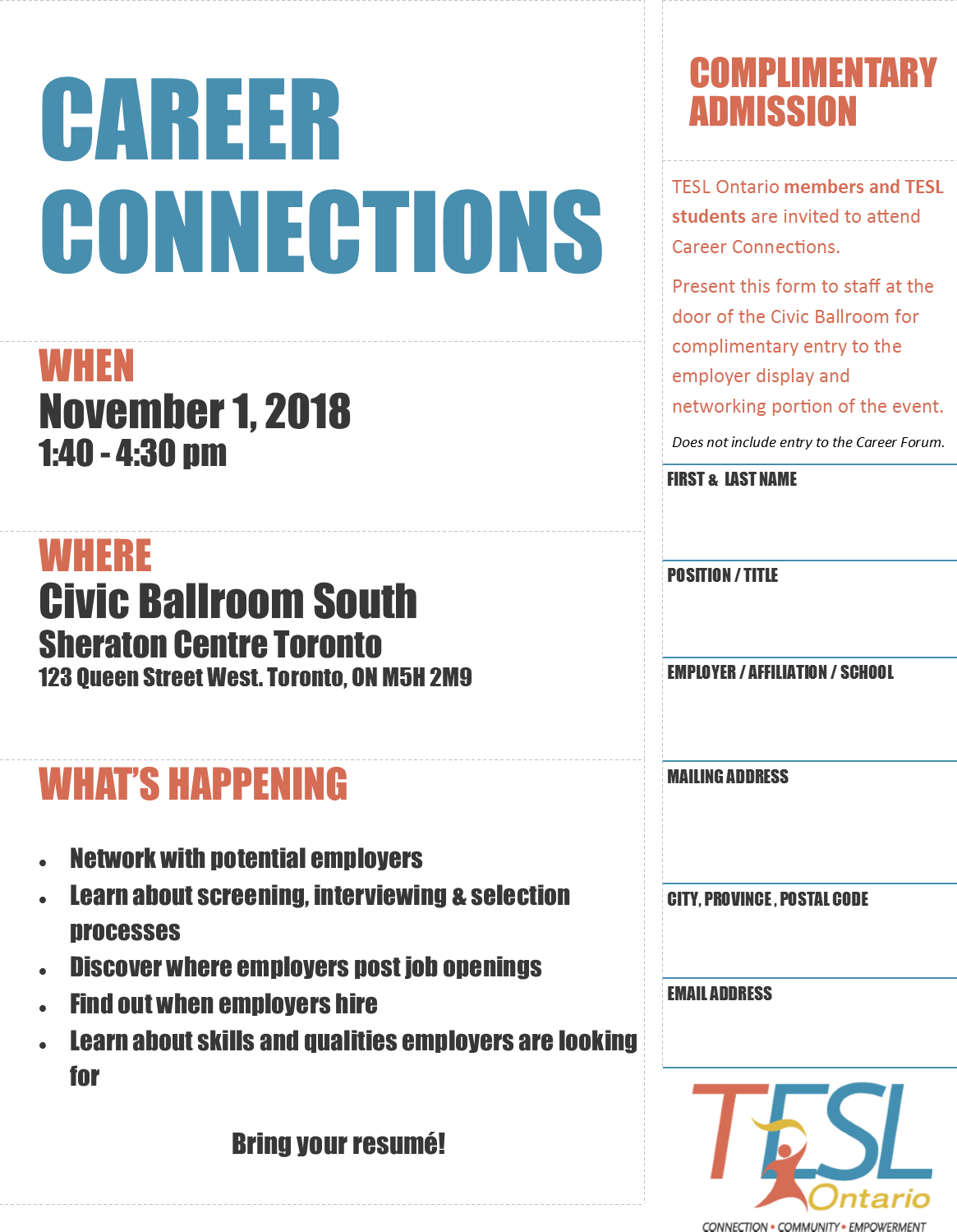 NOT ATTENDING THE CONFERENCE?
Career Connections Employer Exhibits are open to all TESL Ontario members and TESL students.

Click here to download the complimentary admission form to attend the Employer Exhibits / Networking portion of the event.