| | |
| --- | --- |
| Apr 24 | |
| Apr 30 | |
| May 15 | |
| May 30 | |
| June 27 | |
| July 31 | |
---
Dealing With Multi-Level ESL/EFL Classes
When: Wednesday, April 24, 2019 7:00 pm - 8:00 pm

Presenter: Maria Glass, OCELT
Webinar Description:
Do you find teaching multi-level classes challenging? Do you struggle with adapting lesson plans to fit a wide range of abilities? Do you find it difficult to keep students engaged and enthusiastic because of this? If so, then join us for this webinar, as we consider options to address this topic.
This webinar will focus on a pervasive issue in any ESL/EFL classroom: learners presenting different proficiency levels across the language skills. Language teachers inevitably face this issue because language is fluid and multi-dimensional.
In this webinar, we will discuss:
the difficulties and challenges faced in addressing the issue
the implications from not addressing the issue
various strategies to help mitigate the issue
Webinar Type: General
Categories: Classroom management, organization, lesson planning/ideas, multi-level classes
Participant Level: All levels
Maria has more than 30 years of experience as a language teacher. For the past nine years she has been a professor with the School of English as a Second Language at George Brown College. She has a Master of Applied Linguistics degree, and a PhD in Linguistics (Pragmatics) from São Paulo, Brazil.
* Tutela account required before registering
---
What's New in the Best Practices Directory in 2019
When: Tuesday, April 30, 2019 7:00 pm - 8:00 pm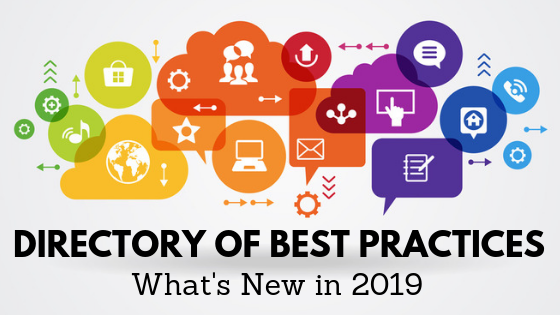 Presenter: Julianne Burgess, OCELT
Webinar Description:
As a busy instructor, would you like to cut down on preparation time while using quality materials with your learners? Where can you easily access practical, high-quality resources? One year ago, we held a webinar to introduce members to the TESL Ontario Directory of Best Practices resources. Now, one year later, the program manager for this project will update us on what's new in the site's content. Come and learn about the full range of what's available for your teaching practice and professional learning.
The directory is an online collection of hundreds of ready-to-use materials that have been carefully selected by practicing teachers to meet the needs of busy professionals. The resources are from across Canada, and elsewhere, and have been vetted to meet best-practice criteria, including usefulness for PBLA classrooms. We hope you'll make the directory an invaluable go-to resource for your students.
What can you expect to learn at this webinar?
A review of the 24 topic areas available, including citizenship, PBLA, special needs, literacy, as well as an emergency toolkit for last-minute supply teachers
Highlights of the new materials
A focus on must-have resources in our legal toolkit, and to lighten the mood, fun to use resources in the media toolkit
How you can give input as to what you'd like to see on this site
To access the Directory of Best Practices, go to: http://bestpractices.teslontario.org
Webinar Type: Best Practices
Categories: Technology, organization, lesson planning/ideas, materials & resources
Participant Level: All levels
Julianne Burgess is the program manager for the TESL Ontario Directory of Best Practice Resources. She is also a LINC instructor at Mohawk College in Hamilton. Julianne has a Master of Education from Brock University, and is also a PhD student in the Educational Studies program there.
LinkedIn: https://www.linkedin.com/in/julianne-burgess-b1aa57112/?originalSubdomai...
| | |
| --- | --- |
| | This webinar is part of the Best Practices webinar series. This series is funded by the Ministry of Citizenship and Immigration (MCI) and will be a resource in the directory of best practices. |
* Tutela account required before registering
---
Timely Talk About Tobacco
When: Wednesday, May 15, 2019 7:00 pm - 8:00 pm

Presenters: Annie Levitan & Joanne Mercer
Webinar Description:
Is quitting smoking something you should talk about with students? Is it part of your role as an instructor to discuss the negative health effects of smoking? Nurses from Toronto Public Health have shared their knowledge with TESL Ontario in past webinars and have been well received by our members. We're pleased to have them join us again, discussing a topic that is relevant to your students, their families, and their communities.
This webinar will explore the health implications of tobacco use, and the benefits, strategies, and resources to support your community in a quit journey.
During this webinar, the presenters will address:
Current smoke-free laws in place in Ontario
Key facts of the health issues of tobacco use
Vaping and e-cigarettes
Implications of the introduction of the Cannabis Act, 2018
Resources available to quit smokings
More information on Toronto Public Health and its ESL lesson plan resources can be found under "Event Information".
Webinar Type: General
Categories: Lesson planning, lesson ideas, health, mental health
Participant Level: No previous knowledge required
Annie Levitan and Joanne Mercer are public health nurses in the Chronic Disease and Injury Prevention program at Toronto Public Health. They are passionate about promoting health and wellbeing for all. They supported the development of the new health curriculum, "Promoting Health Information with Adult Language Learners". They are thrilled to share their passion and knowledge with you.
Event Information:
Toronto Public Health website: https://www.toronto.ca/community-people/health-wellness-care/health-prog...
Lesson plans to promote healthy living with ESL/LINC students – tobacco use can be found at pages 177 to 196: https://www.toronto.ca/wp-content/uploads/2018/08/8f47-18-00083-ESL-Curr...
* Tutela account required before registering
---
Learning Tech Innovation in the Adult Settlement Language Training Sector
When: Thursday, May 30, 2019 8:00 pm - 9:00 pm

Presenter: Rob McBride
Webinar Description:
Online learning technology represents an opportunity and a challenge for adult ESL and LINC professionals. Learners want the language gains and flexibility that blended or online learning provides, and they need orientation to information technology because it's so integrated in the landscape of daily life. But, many language training programs are held back by gaps in teachers' skill, lack of reliable local Wi-Fi, shortages of paid release time, and shortcomings in leadership.
Since 2010, the LearnIT2teach project has provided learner courseware to support LINC blended learning and four stages of teacher training on how to put the courseware to work. Since 2015, the project has also provided an additional level of training for lead teachers and managers, Learning Technology Innovation Leadership (LTIL). The course is mentored and delivered online, and seven cohorts of leaders have progressed through the course. Participants in the course have self-identified as technology leaders, and their forum posts contain valuable lessons on change management and innovation.
This webinar is an opportunity to review and discuss:
lessons learned from LTIL participants
innovation theory and its application to the adult settlement language training field
the value of IT for successful settlement in Canada
the contents and value of the LearnIT2teach Language Learning Leadership Guide
LearnIT2teach
Website: www.learnit2teach.ca
Twitter: @learnIT2teach
LearnIT2teach is funded by Immigration, Refugees and Citizenship Canada
Language Learning Leadership Guide https://leadership.learnit2teach.ca/
An evaluation report was published in 2018 on the Learning Technology Innovation Leadership course. It's available at: http://learnit2teach.ca/wpnew/reports/LTIL_Participant_&_Program_Evaluat...
Webinar Type: Technology
Categories: Technology, organization, blended learning, online learning
Participant Level: No previous knowledge required
Rob McBride is the LearnIT2teach Project Manager of Administration and Communication, and has been the Executive Director of New Language Solutions since its inception in 1983. Rob has worked as a teacher, researcher, writer and producer, principally in the settlement language training and adult literacy basic skills sectors. Rob works on projects where building basic knowledge and skills has the maximum positive impact on the work and personal lives of learners.
* Tutela account required before registering
---
Improving Pronunciation Using Icebreakers, Warmups, and Short Activities
When: Thursday, June 27, 2019 8:00 pm - 9:00 pm

Presenter: Mary Ritter
Webinar Description:
English language learners are "frequently misinterpreted as rude, abrupt, or disinterested solely because of the prosodics of their speech" (Celce-Murcia, 1996). Indeed, target-like articulation and prosody continue to be an obstacle even in advanced classes. Teachers often perceive teaching and assessing pronunciation, though, as difficult (Burgess & Spencer, 2000).
This presenter will share a number of short interactive exercises that encourage students to pay attention to vowel sounds, final consonants, word stress, and prosody. Moreover, because they align easily with the communicative approach in teaching, these exercises work well not just in speaking classes, but even in many reading and writing classes.
During this webinar, the presenter will introduce:
an ice-breaker that targets the pronunciation of consonant blends
an introduction exercise that requires the mastery of the stress patterns of other participants' names
a warm-up that combines alliteration with improv to practice initial consonants
a paired exercise that requires both speaker and listener to distinguish commonly-mispronounced vowels
an intonation exercise in which emotions are expressed through the focus words of given sentences
You will consider how to adapt these exercises to different levels of proficiency or themed units in curricula. By the end of this webinar, it is expected that you will have gained the ability to use short, interactive exercises to improve your students' pronunciation. The presenter will share some examples for use in your lesson planning.
Webinar Type: General
Categories: Listening, pronunciation, lesson planning, lesson ideas
Participant Level: All levels
Mary Ritter teaches ESL, English for Academic Purposes, and English for Specific Purposes in the American Language Institute at New York University in Manhattan. The recent winner of an NYU-SPS Teaching Excellence Award, she specializes in teaching listening and speaking, pronunciation, intercultural communication, and presentation skills. Her current favourite course to teach is Improv for English.
LinkedIn: https://www.linkedin.com/in/mary-k-ritter-83b17669/
* Tutela account required before registering
---
Bridging the Cultural Gap
When: Wednesday, July 31, 2019 7:00 pm - 8:00 pm

Presenter: Munjeera Jefford
Webinar Description:
In today's political climate, talking about culture in the classroom can be a 'toxic landmine' for some instructors. What role does culture play in the English language classroom, and how can ESL instructors bridge the gap within a multicultural society?
The presenter will introduce the funds of knowledge strategy (see reference below). This strategy recognizes the importance of the out-of-school life experiences of ESL students. Our presenter will explore ways to bring that newcomer knowledge into the classroom. Applying this strategy, the ESL student experience can become more meaningful and authentic, as they share their memories and stories.
This webinar will address:
The cultural climate within our ESL classrooms
How we can best address this topic in a respectful way
Whether any related areas or topics should be avoided
How we can develop lesson plans and learning environments to foster cultural acceptance and understanding and promote nationalism in a positive way
Reference
González, N., Moll, L. C., & Amanti, C. (Eds.). (2013). Funds of knowledge: Theorizing practices in households, communities, and classrooms. Routledge.
Webinar Type: General
Categories: Classroom management, lesson planning, lesson ideas, social justice, cultural awareness
Participant Level: No previous knowledge required
Munjeera was an instructor and supervisor for more than seven years across the GTA. She has a Master of Education in Leadership and Educational Administration. Her research areas are anti-oppressive education management and post-colonial thought.
* Tutela account required before registering
---