Suma Balagopal's genuine exuberant spirit permeates her class creating a supportive and burgeoning learning environment. She brings to her classroom the real life experiences and life lessons she has acquired as a marketing management professional and as a student of life. She teaches from a practical standpoint addressing the perspective of the student with an aim to opening up the learner's mind to new possibilities.  Her classroom is often a venue for discussions and the sharing of life events where learners find a place to voice their needs, experiences and challenges. Suma finds the methodology of practical and collaborative teaching extremely effective, particularly when dealing with learners in the process of cultural on-boarding.  more...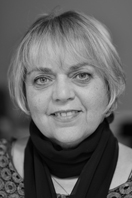 Susan Richarz's career as an ESL instructor began 20 years ago in Ottawa when she volunteered at a local ESL program.  In addition to her ESL volunteering, Susan was involved in a number of community groups. She also volunteered as a tour guide at the Canadian Museum of History where she learned the powerful impact of immersive learning.
In 2001 after finishing the TESL program at Seneca, Susan was hired by the YRDSB and has been with the board ever since.  She also taught ESL at Seneca College as part of their continuing education program for several years.  more...