TESL Ontario's 47th Annual Conference
Cultivating Innovation and Inclusion
December 5 - 6, 2019
Marriott Downtown at CF Toronto Eaton Centre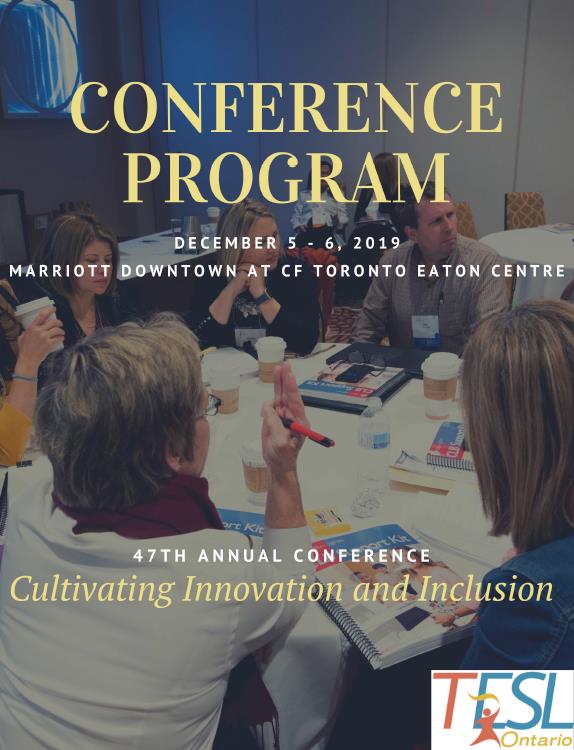 TESL Ontario Conference 2019 Brochure
Tips for Using the Online Conference Brochure
Features to Help you Navigate the Online Conference Program
* Use the Table of Contents [page 3] to find the page number that corresponds to the information you're looking for and scroll to that page.
* To search for any text in the document, click on CTRL+F - a box will appear to type in your search keyword - type your keyword search then press ENTER. If you want to search for more of the same text, click on the "Find Next" button until you're through the entire document.
Important Pages
There is important information in the Conference Program that you should take time to review:
* The Program-at-a-Glance for each day [pages 13-17]
* Detailed session descriptions [pages 41-77]
* An Orientation for Participants / Getting the Most of Your TESL Ontario Conference Experience [page 21]
* Conference Registration Information, Registration Instructions & Fees [pages 22]
* Volunteer Opportunities [page 12]
* Membership Benefits and Registration Form for Non-Members [pages 94-95]
If viewing the brochure on-screen is an issue for you and you cannot print the registration brochure at home or work, you can print the document from a jump drive or CD/DVD at your local Staples Copy Centre at the self-serve counter.
Remember:
* Online registration is open until November 25.
* You MUST register online, so make arrangements to use a computer at work or at your local library if you don't have access to a computer with internet at home.
All attendees will receive a list of sessions and their locations at registration and will be required to line up at the door of the session they'd like to attend.  Each room will be set up for the maximum capacity of the room.  Due to fire regulations, no standing or sitting on the floor will be permitted.
Take Me To Another Conference Page