Cecilia Aponte de Hanna
Cecilia Aponte-de-Hanna, M.A, OCELT, OCT is a very active member of TESL Ontario, first as a volunteer for the webinar and blog teams since their inceptions, and second, as past Executive Board member and Communications Officer of TESL Toronto (2014-2017). In addition, Cecilia has extensive experience teaching in both the private and public sector and is a trained language assessor and teacher trainer.
Cecilia has also presented at various conferences, including TESL Ontario (2012), York University Linguistics and Literature Department Graduate Forum (2012), College Association of Language and Literacy (CALL 2012), TOSCON (2014, 2017), TESL Ontario's Best Practices Webinar (2017), and T4T (2014, 2019). She has also published in College Quarterly and written for Seneca and Centennial Colleges' literary magazines. At Centennial College, where Cecilia currently works, she has been involved in the development of hybrid and online English courses for international students and in integrating intercultural pedagogy in the first year English curriculum. In 2019, she represented the college as co-host and co-coordinator for the province wide, 3-day, College Association of Language and Literacy (CALL) annual conference.
Cecilia's keen interest in second language education, cultural integration, and professional development, which grew out of her own experience as a language learner and newcomer to Canada as well as living in four different countries, continue to drive her commitment to the vision of TESL Ontario and the many opportunities for the professional growth of all its members.
Mario Guerrero
Mario Guerrero is a dynamic and inclusive language educator with TESL experience spanning ten years and three continents. Mario brings diverse teaching experiences from higher education institutions across Colombia, the U.S., the U.K., Canada, and Germany, along with research contributions to critical perspectives on cross-cultural awareness as well as gender equality, diversity, and inclusion. Prior to completing his PhD studies in Education at York University, Mario obtained two postgraduate degrees - a Masters of Science in Education from Fordham University in NYC and an M.A. in Applied Linguistics/TESOL from the University of Leicester in the United Kingdom - and a B.A. in Language Teaching from the University of Nariño in Pasto, Colombia.
Mario's academic, professional, and personal life has been marked by his exposure to individuals of diverse socioeconomic and cultural backgrounds, making him a dedicated advocate for those facing the linguistic, interpersonal, and professional challenges of living in a new country. Throughout his different professional roles, from Academic English instructor at the University of Toronto to educational leader at the Mayor's Office of Adult Education in NYC, Mario has had the privilege of supporting international students, newcomers, and other English language instructors through the use of inclusive teaching methodologies and intercultural curriculum design.
As a member of the TESL Ontario Board of Director's team, Mario will help to foster inclusion and diversity in the conceptualization and implementation of professional development opportunities for ESL teachers, while remaining an advocate for language learners of diverse backgrounds and identities in order to to encourage their success.
Mahdi Rahimian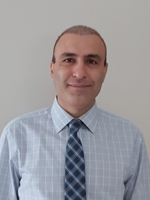 Mahdi Rahimian is a passionate educator who has worked within the field of ESL for 16 years. Mahdi holds a Ph.D. in Education with a TESL specialization, an M.A. in Linguistics, and an M.A. in TESL. Since 2004, he has been actively involved with educational leadership, student services, program development, and teaching ESL. He has taught ESL at different levels and to students of diverse backgrounds. Mahdi has served on several educational leadership boards as a contribution to the field. Participation in academic conferences in ESL and Education in Europe, Asia, and North America is another valuable component of Mahdi's background. He is passionate about the scholarship of teaching and learning and empowering teaching practitioners. Serving on educational leadership roles has shaped his professional leadership style.
Serving as the College Liaison on the Academic Integrity Council of Ontario Executive Team, Co-chair of the Mohawk College Research Ethics Board, and Vice-President of the University of Manitoba Graduate Students' Association are some the examples of Mahdi's leadership roles in education. Mahdi is a strong believer in using holistic approaches in teaching at the theory-building and practice levels.
Mahdi's experience in TESL programs, combined with his leadership experience in adult education, help him contribute to the TESL Ontario board. His problem-solving, meeting facilitation, and project management skills can help him contribute to the board and bring fresh perspectives to the board discussions.
Mary Rizzi
Mary Rizzi draws from years of experience as an educator in several ESL factions: LINC, ESL, ELT, and most recently in EAP. Her passion for learning shines when teaching students to acquire English, be it in advanced studies, finding a career, or simply integrating into their new life in Canada. Mary's history as a mentor to student teachers and her qualifications as an accredited teacher trainer inform her teaching style – making it approachable and adaptable. Mary has served on the board of TESL WW (Waterloo-Wellington) for the last three years and has been their Affiliate Chapter Representative for the last two years. Serving on the board has provided Mary numerous opportunities to portray her positivity and bring her team-oriented outlook to all facets of the job by encouraging others and helping instructors in the Waterloo-Wellington area. Her work has provided balance between professional assistance for the teachers, camaraderie and socializing. Growing up in a multicultural neighbourhood in Montreal and speaking several languages combined with her TESL and ESL qualifications makes Mary a unique candidate for this role.
Tayebeh Shalmani
Tayebeh Shalmani has over 10 years of broad experience in the fields of TESL and ESL, ranging from post-secondary to government-funded language programming. She has served language learners and instructors in Montreal, Calgary and Toronto, where her interactions in diverse contexts have both informed her teaching and shaped the way she views progressive pedagogy and research as integral parts of social action.
Since 2014 and after completing her master's degree in Applied Linguistics at Concordia University in Montreal, Tayebeh has been involved in LINC and provincially funded ESL as a program administrator and curriculum developer. She is interested in language policy and capacity building for language programs through bridging the gap between theory and practice as well as advocacy for ESL professionals, especially instructors, and with the end goal of improving outcomes for language learners. She has been involved in research and advocacy in the field through serving on advisory committee boards and groups, including Local Immigration Partnerships.
Tayebeh looks forward to continuing to serve and learn with the TESL and ESL community through joining the TESL Ontario Board.
Bei Zhang
Bei Zhang was on the TESL London Executive Committee from 2017 to 2019. She served as Chair of the TESL London Events Committee for the 2017-2018 period, and then as Chair of the TESL London Professional Development Committee for the 2018-2019 period, where she spearheaded the planning and organization of the very successful 2019 TESL London Conference.
Bei completed her MA in Educational Studies at Western University in 2018. Her thesis focused on ESL teachers' self-belief in pronunciation instruction in Canadian classrooms. While completing her graduate program, she served as MA Cohort Representative and Councillor of the Society of Graduate Students. Bei has completed extensive TESOL training and received her OCELT professional designation in 2019.
Bei has worked as an ESL teacher in a number of different sectors in Ontario. She started teaching ESL at a private language school in London, Ontario where she also acted as an iBT TOEFL proctor. Since then, she has moved on to become an adult ESL-LINC instructor at Thames Valley District School Board. She is also an English Language Learning Specialist at Huron University College where she helps international students excel at university.