-
The TESL Dialogue series is an open forum where participants are free to turn on their microphones and cameras to fully immerse in a discussion about a relevant topic in ELT. A subject-matter-expert joins participants in this session to help guide the conversation and offer helpful insight when needed.
Format: Throughout the session the moderator will provide the audience with a thought-provoking question to encourage conversation. After the subject matter expert responds to the question, participants are invited to answer the questions themselves, provide a comment or example, or ask a related question to the subject matter expert and their peers. The goal of this session is to develop a community of practice which allows for as many narratives to be heard and shared as possible. The session will conclude with a breakout room reflection activity where participants are encouraged to discuss what they have learned, any remaining questions they have, and their next steps in respect to the session topic.
Upcoming TESL Dialogue Sessions
Access to TESL Dialogue Sessions
TESL Dialogue Sessions are open to TESL Ontario members only, as a FREE benefit of membership.
TESL Dialogue sessions are hosted on Zoom meeting.
TESL Dialogue sessions are limited to 80 registrants. Once the limit is reached, registration will close. Please be considerate of others; before registering, be sure you can attend.
PD certificates for 1.5 hours will be emailed within 5 business days of the event.

Please note that these sessions are not hosted within Tutela.ca, and registration is different from webinar registration.
Not a member of TESL Ontario, but want to receive notices of upcoming PD events? If so, complete the online form to join our email list.
---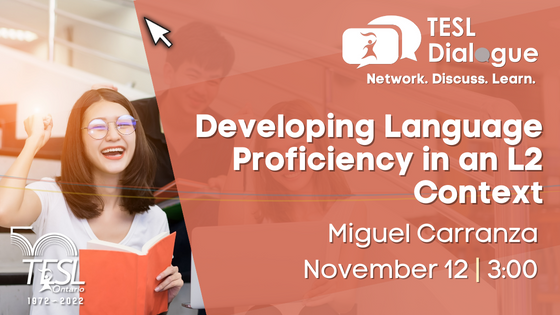 TESL Dialogue: Developing Language Proficiency in an L2 Context                                   
Subject-Matter Expert:  Miguel Carranza

When: Saturday, November 12, 3:00 - 4:30 pm (EST)

Teaching Sectors: Adult ESL (credit), College/University (EAP), Continuing Education/Adult ESL (non-credit), Secondary, TESL trainers
Participant Level: No previous knowledge required

Category: Developing fluency


Dialogue Description
What are some challenges students face to achieve fluency in your context? What has your experience been like using authentic materials? How often do you use your recommended activities in the classroom?
In this session, our presenter will share some useful techniques he has used to promote fluency, and higher levels of language competence in an L2 context. He will encourage you to consider and share with us what you have used when facing this challenge. We will also discuss students´ reactions to the implementation of such activities. In addition, students´ affective filter should be relatively low for them to be successful at speaking. We can discuss how this can be accomplished.
Please come prepared to learn but also share your ideas and experiences. Such a knowledge exchange can be rewarding for everyone.


Note: TESL Dialogue session are only open to current TESL Ontario members.
---

TESL Dialogue: Fostering Independent Learners                                 


Subject-Matter Expert:  Dr. Lynn Zimmerman

When: Tuesday, December 6   7:00 - 8:30 pm (EDT)

Teaching Sectors: All Teaching Sectors
Participant Level: No previous knowledge required

Category: 21st Century Skills, Soft Skills

Dialogue Description
 
Who are "independent learners"? Why is it important to foster them? What are some differences in how adult learners and younger learners develop independence? What are some differences in independent learners in the face-to-face and the online environments?

In this session, we will examine and discuss what your learners need the most to become independent learners. We will consider how you can provide motivational information, as well as motivational and challenging real-world tasks, that spark their curiosity and promote reflection. We will also discuss what you see as the biggest challenges you face in fostering independent learning. Join the discussion, share your ideas, and learn from both the subject-matter expert and those in attendance.
Dr. Lynn Zimmerman's TEFL journey began in 1992 as a Secondary TEFL Peace Corps volunteer in Poland. After that, she got a Master's in Library Science, a Master's in TESOL, and a PhD in Curriculum & Teaching. She has taught educational foundations and TEFL as a teacher trainer at the undergraduate and graduate levels. She has been a Fulbright Scholar in Poland, Belarus, and Moldova. She was an English Language Fellow in Albania and an English Language Specialist in Chad and Uzbekistan. Most recently, she served as a Virtual Specialist in Pakistan. Currently, she is a freelance online curriculum developer and online TEFL instructor.
LinkedIn: http://lnkd.in/RQGVih
Twitter: @lwzimmerman


Note: TESL Dialogue session are only open to current TESL Ontario members.
 
---
Want to Lead a Discussion?
TESL Ontario continuously accepts proposals for TESL Dialogue subject-matter experts throughout the year. Proposals will be reviewed by the Dialogue team, and if approved the subject-matter expert will be contacted to make arrangements for scheduling the TESL Dialogue session.

Visit our Become a Presenter webpage for more information.
---
TESL DIALOGUE VIDEO LIBRARY