National Volunteer Week 2021
TESL Ontario will be celebrating National Volunteer Week April 18 - 24, 2021 to pay tribute to the many volunteers who are an essential part of the success of this organization and its Affiliate Chapters.
We consider our volunteers to be our most valued community resource.
Sharing their time, expertise, commitment and vision, our volunteers inspire TESL Ontario to continuously find new ways to serve and support our members.

We rely on the innovative contributions of our many dedicated volunteers to facilitate significant progress for English language educators in Ontario.

We sincerely appreciate the dedication, time and skills of our volunteers.  
Please join us in sending a huge THANK YOU to all of the volunteers who make it possible for TESL Ontario to continue serving you.
Thank a Volunteer

TESL Ontario volunteers make innovative contributions to the organization that benefit each and every member of TESL Ontario. By selflessly sharing their time, expertise, commitment and vision they have facilitated significant progress for language training professionals in Ontario.

Take a few minutes to thank a volunteer for their service. It can be a message to a specific volunteer or team of volunteers, or a general shout out to all volunteers.

 
Volunteering: What's in it for you?
Find out about the personal and professional benefits of volunteering your time and expertise with TESL Ontario and local TESL Affiliate Chapters  
Click here to view our Volunteer Information Brochure.
Affiliate Chapter Opportunities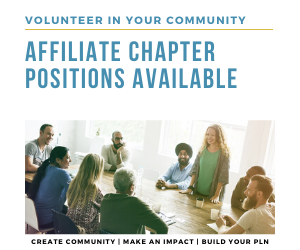 TESL Ontario Affiliate Chapters are always looking for new members to join their executives to fill key roles.
Affiliate Chapter Executive members are involved with developing a community of peers in your region, organizing professional development activities, and collaborating with TESL Ontario to ensure that key concerns are brought forward from your communities.
Volunteering with your local affiliate chapter executive has several benefits, including:
Excellent management and leadership experience
Professional Development (PD) credits toward your PD requirements for accredited membership renewal
Opportunity to develop an active community of peers in your region
Valuable networking opportunities to connect with your peers and build your personal learning network
The opportunity to make new friends and enjoy the camaraderie that is shared amongst a community of volunteers.
If you're interested in giving back to your local community, we encourage you to apply with your Affiliate Chapter today.
Working Committees
TESL Ontario has 6 working committees.  Members are asked to fill out an expression of interest form and send it to TESL Ontario for consideration.  If there are any committees with current openings you will be contacted.
Click here to access the Expression of Interest form and instructions.