| | |
| --- | --- |
| Aug 22 | |
| Aug 28 | |
| Sept 22 | |
| Sept 29 | |
| Oct 23 | |
---
Using Google Sites for Scaffolding Writing
When: Thursday, August 22, 2019 8:00 pm - 8:00 pm

Presenter: Ruth Emode
Webinar Description:
Are you interested in creating a customized platform similar to a Learning Management System (LMS), but one that is more user-friendly than Moodle or Blackboard? Have you been wondering how to liven up the monotonous routine of teaching essay writing, especially research papers? If so, this webinar will be of interest to you.
Focused on strategies for intermediate to advanced English-for-Academic-Purposes (EAP) learners, particularly those aiming to start undergraduate degrees, our presenter will demonstrate ways to scaffold the writing process. She will cover from the brainstorming stage to the final draft, with a variety of techniques that engage learners through online tools, hosted on Google Sites or used with Google apps.
Though writing and marking papers can never be completely painless, this webinar will deconstruct the usual stages of writing and reading academic work to help simplify the process and identify where students need guidance. Our presenter will explain the advantages of:
• pre-selected topics • carefully designed handouts for brainstorming and outlining • activities with collocations • collaborative writing • annotating tools • practice videos for final presentations
Knowledge of Google Sites, a platform that allows one to embed a variety of tools and materials directly into the pages for a more accessible website, is not necessary. The basics of Google Sites will be explained, and its possibilities are not limited to writing or higher-level students.
Webinar Type: Technology
Categories: Technology, organization, research writing
Participant Level: No previous knowledge required
Ruth has been an ESL instructor at York University English Language Institute (YUELI) for several years. She is also an ESL professor at George Brown College. She has taught all levels but has more experience teaching students in pathway programs designed for direct entry to university. Ruth has a Master of Arts in English Literature from the University of Victoria, and a TESL Canada certificate from Victoria International Academy.
* Tutela account required before registering
---
Reduce Writing Anxiety: Creative-Critical Thinking for Literacy
When: Wednesday, August 28, 2019 7:00 pm - 7:00 pm

Presenter: Christine Boyko-Head
Webinar Description:
How many times have instructors told students to make sure they have a thesis in their writing? How many times have papers been handed in without them? What if there existed a step-by-step process helping learners overcome writing blocks, essay anxiety, thesis avoidance, and proposal paralysis while also having fun?
The Creative-Critical Thinking for Literacy is an adaptation of the Osborn-Parnes creative problem-solving model used in organizations and businesses for over 60 years. Six clearly described steps take learners through:
Min(e)ing passion,
Min(e)ing data,
Min(e)ing gaps,
Refin(e)ing inquiry,
Refin(e)ing claims,
Refin(e)ing actions.
Each stage begins with an essential question followed by divergent and convergent thinking tools moving them closer to success as they build and iterate on each step. The process can be done individually or in groups to maximize the energy.
This fun, fast-paced webinar demonstrates the process and guarantees an 'out-of-the-block' thinking, creating, and writing process good for all communication tasks.
The presenter will include a hands-on participatory exercise to demonstrate its effectiveness, and will also share practical materials.
Webinar Type: General
Categories: Literacy
Participant Level: All levels
Christine Boyko-Head has taught Communication and Critical Thinking courses at Mohawk College since 2011. From 2001-2011 she taught in the USA and Israel. She has published, consulted, and presented nationally and internationally. Her work min(E)s the gaps between education and innovation through arts-based, creativity strategies enhancing learner success. She recently worked with 150 educators in Turkey helping them create equitable classrooms by applying cognitive preference theory and creativity tools to differentiate instruction.
* Tutela account required before registering
---
"Did You Get It?" Activities and Assessments for Bottom-Up Listening
When: Sunday, September 22, 2019 7:00 pm - 8:00 pm

Presenter: Mary Ritter
Webinar Description:
Do you try out various techniques to teach listening but still not come up with a satisfactory method? Do you wonder how you can improve upon your current approach? If so, this webinar may be of interest to you.
Our presenter will provide an overview of top-down and bottom-up listening, and then makes a case for including more bottom-up listening in lessons.
Most listening textbooks focus on top-down listening, but this does not tell us where exactly our students are having troubles. By focusing on bottom-up listening, teachers can diagnose problems with phonemic contrasts, syntactic variations, and even pronunciation.
Participants will leave with several practical listening activities and assessment strategies to try out, as well as an approach to meaningful, goal-focused, bottom-up listening instruction.
Webinar Type: General
Categories: Listening, lesson planning, lesson ideas, instructional design
Participant Level: Moderate level
Mary Ritter teaches ESL, English for Academic Purposes, and English for Specific Purposes in the American Language Institute at New York University in Manhattan. The recent winner of an NYU-SPS Teaching Excellence Award, she specializes in teaching listening and speaking, pronunciation, intercultural communication, and presentation skills. Her current favourite course to teach is Improv for English.
LinkedIn: https://www.linkedin.com/in/mary-k-ritter-83b17669/
* Tutela account required before registering
---
Using Socrative for Formative Assessments in the Classroom
When: Sunday, September 29, 2019 7:00 pm - 8:00 pm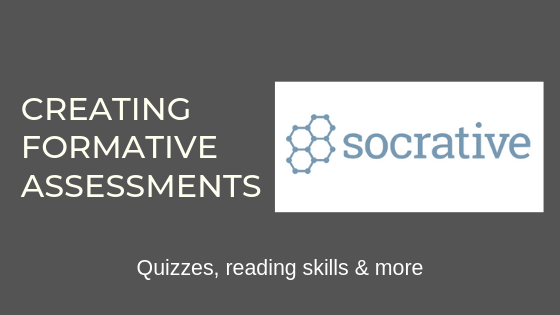 Presenter: Afrouz Mobayen, OCELT
Webinar Description:
Do you want to assess students more frequently but find that marking quizzes in large classes can be an issue? Would you like to learn about an effective online assessment tool that automatically marks quizzes and auto-populates results? If so, this webinar will be of interest to you.
In this webinar, the presenter will introduce you to the various uses of Socrative, which is a free online application for creating formative assessments. Join us to learn about the features of this tool and see examples of how it can be used to assess reading skills in ESL classrooms.
If you are not familiar with using technology in the classroom, this tool can be a great start as it is simple and easy to use.
Webinar Type: TechKnow
TechKnow webinars are one hour, in two segments:
40-45 min presentation, supported by slides
15-20 min for attendees' questions
Priority will be given to questions submitted in advance. Members can submit relevant questions up to one day before the webinar.
Email questions to webinar@teslontario.org, showing the webinar title in the subject line.
Categories: Technology, assessment
Participant Level: All levels
Afrouz teaches English for Academic Purposes at George Brown College's School of ESL. She also teaches online courses for McGill's School of Continuing Studies. Afrouz holds a Master of Education in Curriculum Studies and Teacher Development from OISE, University of Toronto.
* Tutela account required before registering
---
Dealing With Multi-Level ESL/EFL Classes
When: Sunday, October 23, 2019 7:00 pm - 8:00 pm

Presenter: Maria Glass, OCELT
Webinar Description:
Do you find teaching multi-level classes challenging? Do you struggle with adapting lesson plans to fit a wide range of abilities? Do you find it difficult to keep students engaged and enthusiastic because of this? If so, then join us for this webinar, as we consider options to address this topic.
This webinar will focus on a pervasive issue in any ESL/EFL classroom: learners presenting different proficiency levels across the language skills. Language teachers inevitably face this issue because language is fluid and multi-dimensional.
In this webinar, we will discuss:
the difficulties and challenges faced in addressing the issue,
the implications from not addressing the issue,
various strategies to help mitigate the issue.
The presenter will share some practical materials for use in your lesson planning.

NOTE: This content is a repeat of a webinar held April 24, 2019, which unfortunately wasn't able to be completed due to technical difficulties.
Webinar Type: General
Categories: Classroom management, organization, lesson planning, lesson ideas, multi-level classes.
Participant Level: All levels
Maria has more than 30 years of experience as a language teacher. For the past 10 years she has been a professor with the School of English as a Second Language at George Brown College. She has a Master of Applied Linguistics degree, and a PhD in Linguistics (Pragmatics) from São Paulo, Brazil.
* Tutela account required before registering
---